Young people and the family justice system: project overview
---
We are bringing together existing and emerging evidence, combined with the insights of young people, professionals and experts by experience, to identify ways to improve support for young people across the family justice system and its intersections with the care and youth justice systems.
By bringing a long-term focus to this work, we aim to help bring about change in the way the family justice system responds to and meets the needs of young people who journey through it and beyond. With others, we are working to explore what is working well, what needs to change and what is needed for that change to happen.
Advisory group
---
Deborah Woodcock

Director of Operations, Principal Social Worker

Stockport Family

Jahnine Davis 

Director/Co-Founder

Listen Up  Research  

Professor Janet Boddy

University of Sussex

Darren Coyne   

Former Project Manager

National Care Leavers Association  

Vicki Morris  

Deputy Director  

Centre for Justice Innovation

John Drew CBE  

Visiting Professor University of Bedfordshire, Chair Medway Safeguarding Children's Board, Independent reviewer

Curtis Ashton

Acting Director of Youth and Community

Youth and Community Services, London Borough of Islington

Jasmine Mohammad 

VAWG Advocacy Manager 

The Angelou Centre

Michael O'Connor

Youth Justice, Early Help and Partnerships Consultant
Young persons advisory group
---
Michael Clarke

Advisory group co-researcher

Daniel P. Williams

Project Development, Young Persons Advisory Group

Francis Turkson

Young Persons Advisory Group

Ikesha Tuitt

Young Persons Advisory Group

Advisory group co-researcher

Chloe Rees

Young Persons Advisory Group

Advisory group co-researcher

Caitlin Wakeman

Young Persons Advisory Group

Advisory group co-researcher
Project consultant
---
Seth Oliver

Art-based researcher
What do we mean by 'young people'?
---
We recognise that 'adolescence' or 'adolescent' is a term rarely used by individuals, families or professionals and its definitions are the source of some debate. We are adopting a psycho-social developmental perspective, seeing adolescence as a stage in growing that continues into young adulthood and beyond.
Therefore, the focus of this work is on young people and older children, encompassing those in care proceedings and in care or in receipt of support from children's social care.
Professor Robin Banerjee explains what we mean by 'young people' in this short video.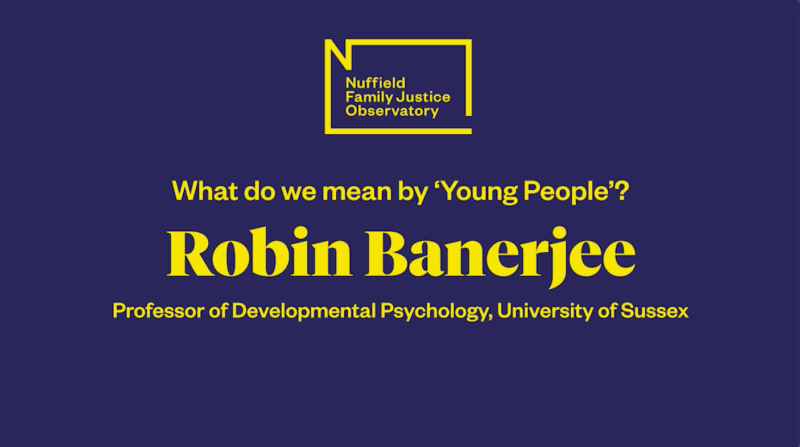 Why is this project needed?
---
In recent years there has been growing recognition of the increasing numbers of older children and young people coming before the family courts in care proceedings, and the diversity and complexity of their needs.  This has included a growing awareness and understanding of the range of risk factors that young people face, many of which are distinct from those faced by younger children.  Responding to the needs of young people presents a challenge to the child protection and family justice systems, which have, until recently, primarily been focused on protecting younger children from risks within the family home.
Yet we still do not know enough about these young people and what happens to them during and after their interactions with children's services, the courts in care proceedings, or other proceedings concerning them – such as applications to deprive them of their liberty in the High Court or Court of Protection.
We have a stronger evidence base about the journeys and experiences of young people in the youth justice system than we do in family justice, but we lack a real understanding of the relationship between the youth justice system and child welfare and care proceedings. Nor are we clear about the impact decisions made in the family court about these young people has on their families and communities.
What does the project aim to do, and how?
---
The purpose of this work is to identify realistic and grounded ways to improve responsiveness and support for this cohort of young people.
We have already begun to bring together in innovative and interesting ways existing evidence about older young children in relation to their experience of care. We will continue this work with insights of both professionals, academics, and experts by experience.
We are contributing new research through analysis of national administrative data, focussed on young people presenting in care proceedings, young people in relation to S25 Children Act 1989 applications, and young people subject to restriction of liberty under the inherent jurisdiction of the High Court.
We are also undertaking a range of participatory research activities with young people, and convening circles of discussions with parents, families, and communities. This work represents the first step into direct participatory work for the Nuffield FJO. The voices of young people and care leavers are at its heart, ensuring that their lived experience shapes analysis of the shortcomings of the current system, as well as driving a hopeful vision of how it could be transformed. By offering this vision, the participants in this work hope to do more than offer a mirror to the current system; they hope to contribute to change that will improve the lives of young people, long after they reach adulthood.
We will present our findings in a series of reports, videos and creative outputs, bringing together traditional data analysis and new storytelling techniques to provide a rounded picture. These pages will regularly be updated with the latest developments.
Systems change and the Three Horizons approach
---
The project is shaped in three 'arcs' modelled on the Three Horizons approach, a tool for thinking about change.
Lisa Harker, Director of Nuffield FJO, explains our approach.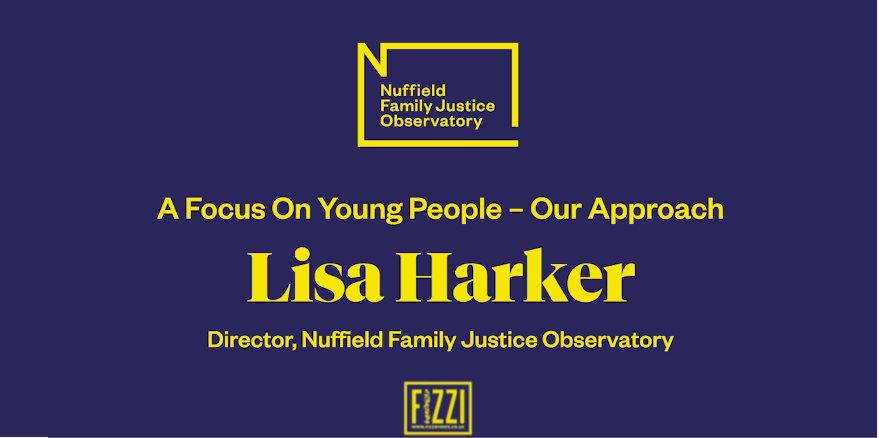 Arc 1 – Building the evidence base
To understand more about the young people coming into care proceedings, and their trajectories during and after contact with the family justice system, we have produced:
A descriptive analysis of the number and proportion of older children in care proceedings over time as well as incidence rates, from national administrative data.
An overview of the health and health service use of older children and young people (aged 10–17) involved in section 31 care proceedings in Wales.
We commissioned Research In Practice to undertake an analysis on what is happening in four local authorities, to build a better understanding of the reasons why older children and young people are being brought into care proceedings.
An analysis of the applications for care proceedings contained in court files in the East London Family Court in relation to older children and young people (aged 10 to 17) between July 2019 and July 2020.
We have also invited academics, professionals and experts with lived experience to reflect on current challenges in a short film. We will share further in-depth interviews which provide multiple perspectives on how the systems of children's social care, youth justice and family justice are responding to the needs of young people and older children.
Arc 2 – Participatory research
Working with young people, families, and communities we are undertaking a series of participatory workshops focused on the unheard voices whose lives are affected by the family justice system and subsystems. This approach will draw on the insights, expertise and ideas of young people and adults with lived experience, and will be set firmly within a co-production frame.
Arc 3 – A blueprint for change
We believe that this combined research approach working with data, established research evidence, new insight analysis and first-hand testimony from young people, families and communities, will bring new questions, new practice insights, and a space to co-create ideas to support improved outcomes for young people whose wellbeing, happiness and safety is the primary concern.